Ranch Home in Granby!
January 1st-Single Family Home in Granby
Listing ID: 2431
Gallery
Property Information:
APPLY ONLINE
Address:
249 Chicopee Street, Granby, 01033
Storage: Yes - Finished Basement
Appliances:
Washer and Dryer Hook Ups
Refrigerator
Stove
Pets Considered: Yes - Well Behaved Pet Considered
Cooking Fuel Responsibility: Tenant
Hot Water Fuel Responsibility: Tenant
Heat Fuel Responsibility: Tenant
Electricity Responsibility: Tenant
Lawn Responsibility: Tenant
Recycling Removal Responsibility: Landlord
Snow Responsibility: Tenant
Trash Responsibility: Landlord
Water/Sewer Responsibility: Landlord
Electric Utility Company: National Grid: (800) 322-3223
Required to Move in: First and Security Deposit of One Month's Rent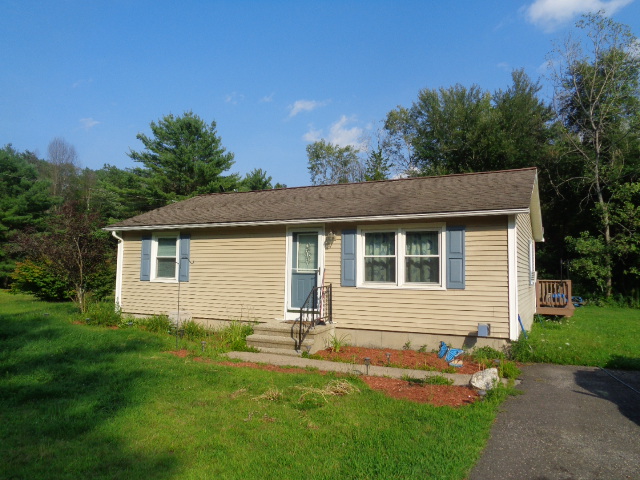 Property Description:
Available January 1st-Home is tucked back from street and has a large front and back yard. Nice two bedroom single family home in Granby. Walk in to a large living room. Off the carpeted living room is a large eat in kitchen with back door to large deck with electric awning to shade and cover deck. Kitchen has stainless electric stove and double sink. Two carpeted bedrooms and a tiled bath with tub. Large finished basement with washer and dryer hook ups. Front lawn back side yard with blueberry, red, golden and black raspberry bushes. Also asparagus, rhubarb and strawberries in back yard. Pellet stove for tenant's use. Included in rent water and lawn. Well water and septic. Shed in back yard for tenant's use. Included in rent-water. sewer, trash, recycling and snow removal is negotiable. Tenant responsible for lawn care (riding lawn mower at home for tenant's use) and electricity. Well behaved pet considered.
Restrictions
No Smoking on Premises
Guarantor Not Considered
Well Behaved Pet Considered
Home Features:
Large Deck with Electric Awning to Shade and Cover Deck, Finished Basement, Nice Sized Eat in Kitchen, Pellet Stove, Large Yard, Well Maintained
Community Features:
15-20 mintues from downtown northampton, Close to Atkins Farmers Market, Mt. Holyoke Range/The Notch and Great hiking!
Contact Agent About this Listing